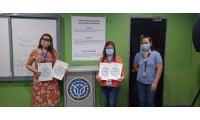 BPC was granted Certificate of Recognition for Blended Learning by the Technical Education and Skills Development Authority (TESDA) last November 25, 2020.
This recognition announces the capacity of the school to deliver the registered programs with the preferred flexible learning mode, which in the institution's case is the Blended Learning - a mode where e-learning (usually with the aid of Learning Management Systems) is combined with traditional forms such as face-to-face learning.
Guidelines in Implementing Flexible Learning in TVET by was promulgated by TESDA Circular no. 062 series of 2020 issued this May 2020. The circular was preambled: "In line with the policy direction provided in the Operational Plan (OPLan) TESDA Abot Lahat: TVET Towards the New Normal, this Circular is hereby issued to provide guidelines in the management and implementation of flexible learning in the delivery of technical vocational education and training (TVET) in the country."
- The Sentry