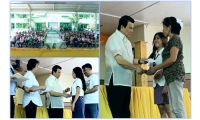 Being poor does not mean that a degree is unreachable.
BPC Court, as per instructions from The Commission on Higher Education (CHED)-Unified Financial Assistance System for Tertiary Education(UniFAST) following Republic Act (RA) 10931 or the Universal Access to Quality Tertiary Education, TES grantees of Bulacan Polytechnic College (BPC) Malolos were granted their 5-months worth of financial assistance last February 12, 2019.
The school, with its administrators, held a Distribution of CHED-UniFAST TES to Student Grantees program with the students accompanied by their parents, namely Bulacan's Provincial Governor Hon. Wilhelmino Sy-Alvarado, and the school's College President Dr. Perlita Cruz, spearheaded the certificate and subsidy-giving to the students and their parents.
The 92 students of BPC Malolos who were qualified to the grants-in-aid program received a total amount of Php 20,000, the 1st semester allowance as was allotted by TES, a core program of RA 10931 targeting to support poor but deserving Filipino students enrolled in Higher Education Institutions (HEIs). With the Php 40,000 allocation for each beneficiary per academic year (AY), the remaining half will be provided for the 2nd semester in monthly distributions.
With the subsidy intended to fund the grantees' school fees, books, transportation, board and lodging, this is a big help to parents who have always been burdened by the expenses of tertiary education especially the daily allowance.
"Malaking tulong ito, malaki rin ang mababawas sa aming budget dahil hindi na namin proproblemahin pa kung saan hahagilap ng pang-araw-araw na baon, kasabay pa, maaari ngang sila pa ang makatulong kahit konti sa pinansiyal. Isa pang kainaman nito ay matuturuan din ang aming mga anak kung paano humawak ng pera," says Helen Flores, a parent of one student grantee.
The College President also expresses her gratitude towards this opportunity, claiming that these indeed are graces from above through Pres. Rodrigo Duterte. Furthermore, she added that BPCians must prove themselves worthy of it, encouraging them to continue their education with a reminder that they should spend the money wisely.